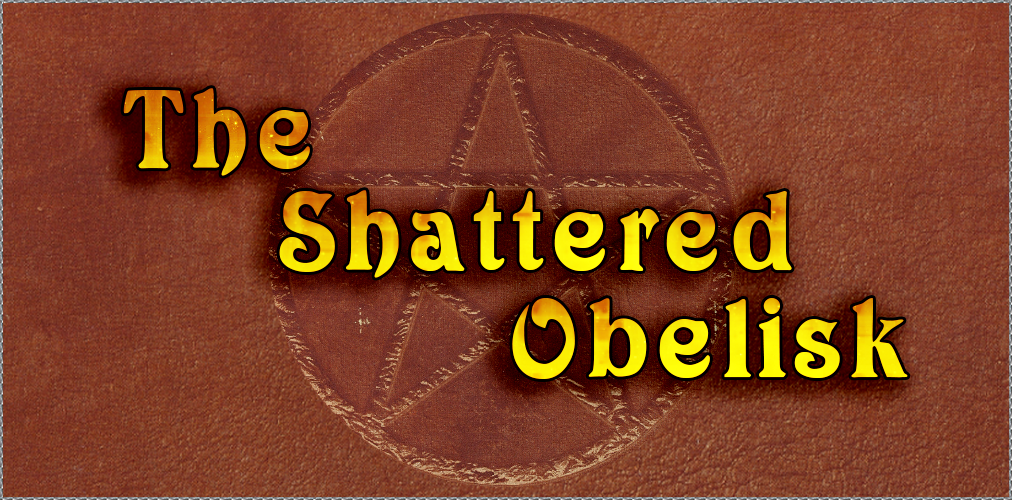 To celebrate Ultima Online's 20th Anniversary we are pleased to announce our next content arc, The Shattered Obelisk.
The Shattered Obelisk includes activities for group and solo play, challenging quests and puzzles, new areas of the world to explore and a continuation of the saga that is Ultima Online.  Along with the in game features and fiction that are part of Publish 98, we have exciting new fiction that will be posted on UO.com as well as support events held by our Event Moderators.
The Shattered Obelisk will begin on August 16th, 2017 at approximately 11:00am ET.  A new post will be put on the front page of UO.com when a new part becomes active on all shards.  The Shattered Obelisk exists in 5 parts, with each previous part able to be completed when a new part becomes active until Part V becomes active.
Part I – The Not-So-Ordinary World – Inactive
It is just another day in Britannia, or is it?  In an effort to stimulate trade and bolster city treasuries his Royal Highness has announced a reduction in tariffs, giving a large bonus to all city trade deliveries.  With an increase in trade traffic, royal trade carts are finding themselves ambushed on Britannia's roads.  Who are these unknown attackers and what is their intent?  Are they merely highway men looking to score some easy coin or are there more sinister forces at work…
Part II – Exotic Treasures – Inactive
The treasuries of Britannia's cities overflow with coin as brave citizens take to protecting the commerce of the realm, hoping to recover otherwise useless trinkets of unknown highwaymen.  Clues from those trinkets have raised more questions then they have answered.  As the questions continue to mount, exotic treasures are found buried deep in the otherwise quiet Britannian countryside…to what end are these treasures important and what role do they play – only time will tell…
Part III – An Ethereal Journey – Inactive
Skara Brae reels from the devastation of a recent earthquake, Britain's farms are engulfed in an inferno, and Vesper is drowned in catastrophic floods – despite these events, the whole of Britannia seems mostly unfazed.  Perhaps a testament to the resolve of the Britannian people, or are there riches drawing the attention of would be treasure seekers – to what end are these events connected? Will it be too late before that question is answered…
The House Between There and Here
Part IV – The Evil From Afar – Inactive
As the full picture of recent events in Britannia come into focus it all begins to make sense.  Cultists influenced by zealots from the far away world known as Pagan have used ancient magics to open a gateway to this dead and vile world.  Using that gateway the armies of the Elemental Titans have leeched into Britannia, bringing with them catastrophe and chaos.  At the behest of Sherry the Mouse and with the aide of Mythran, Britannia stands a chance to fend off this coming disaster – but to the victors go the spoils, can Britannia and her people's emerge victorious?
Special note: Part IV includes invasions throughout Britannia.   While creatures killed have a chance to drop special equipment, in order to be eligible for non-equipment & decorative rewards in Part V a character must battle the elemental titans of Part IV.  Eligibility is determined by damage taken, damage dealt, and damage healed from elemental titans.
Battle of the Shattered Obelisk
Part V – September 28, 2017 – Now Active
Blood and sweat stain the streets of Britannia's cities.  Once again the realm has banded together against a common enemy and defended Britannia from certain destruction.  Celebrations erupt across the realm as news of the Titans rebuff from our world spreads.  To honor those who fought valiantly in the Battles of the Shattered Obelisk His Majesty King Blackthorn has called for a great parade throughout Britain.  Citizens are encouraged to walk the parade route which begins near The Right Fit in Britain and follows River Run Road before ending just outside the entrance to Castle Blackthorn.  Rejoice and celebrate, for victory is yours once again!
Special note: The parade route will be available and non-equipment and decorative rewards will be available to be redeemed until Publish 98.2 goes World Wide in mid-November.  Keep an eye on UO.com for the full and exact release date of Publish 98.2.