Here ye here ye…the great race is back! Following a string of impressive victories over some of the best treasure hunters in the realm, the Gold Diggers of Legends Shard received a well deserved rest as other shards prepared their teams. They are prepared, and the Diggers' rest is over. A Challenge has been issued by the shard of Europa:
Dear Legends,

Europa has been busy. For weeks we have grown a team of Treasure Hunters that are now ready to challenge you, Legends, and your team to a race of seven dangerous chests. The Elven League of Virtues team from Europa is primed and raring to go… But do you accept?

Regards,
The Elven League of Virtues, EM Adris & EM Emile Layne of Europa
Eager to compete once again, there was no delay from Legends in issuing a response: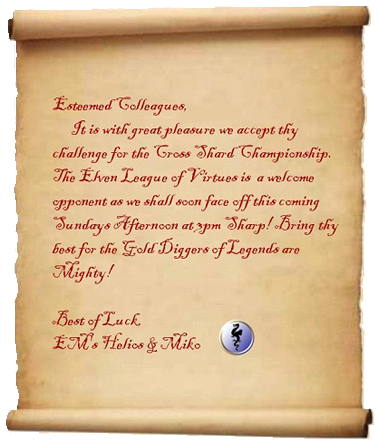 Will this group of Virtuous Elves be able to succeed where many have failed? Or will the Gold Diggers prove once again that they are in a League of their own?
Find out as these two teams meet on the sparkling island of Nujel'm for the latest match in the Cross Shard Treasure Hunt Challenge!
---
Where: The Chessboard in Nujel'm, Trammel ~ Test Center Shard
When: Sunday, August 26th
Time: 3pm EST, 8pm GMT
Moongates will be provided from the New Haven bank. Come cheer on your favorite team!