Siege Perilous – Ant Attack
November 26 @ 5:00 pm

-

6:00 pm

EST
Event Navigation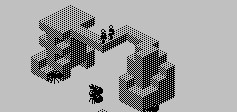 Earlier this month, you may have encountered the chaos caused by a tamer's young apprentice. The more curious amongst you might have asked why this apprentice was left to his own devices for long enough to cause such mayhem.
Now, the truth can be told. Tis simple – his master is also an idiot.
His master has been trying to breed solens, in the hope of having an army of docile, obedient ants at his beck and call. Naturally, this has gone horribly wrong.
The ants, already more intelligent than their would-be master, have taken the new skills he gave them, and started to rebuild an ancient city. Long, long ago, the walled city of Antescher stood proudly in the midst of the desert, home to the earliest Solens. The tamer's meddling has re-awakened their memories of their ancestors, and their past glory. This cannot possibly end well.