Siege Perilous – Murder in the Library
January 27 @ 5:00 pm

-

7:00 pm

EST
Event Navigation
Starting time : 5 pm EST at the House of Commons (EM Hall)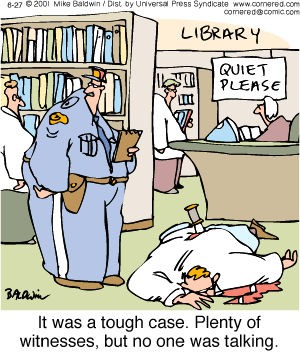 The Royal Detective's wings bristled as he surveyed the library around him. It was almost tranquil. Normally there would have been pools of blood from a stab wound like this, but this time the corpse lay on a neatly arranged pile of magical scrolls, which had fine absorbent qualities.
Then there was the deceased himself. Neatly dressed, in expensive clothes which showed no sign of a struggle. Indeed, it was as if the man's squire or valet had just finished helping him to dress.
The library staff were unhelpful, at best. Most of them kept "shushing" him when he tried to interrogate them, and those he could get to talk claimed to have seen nothing. He found that unlikely, given that the corpse lay in the middle of the room.
The young librarian who had reported the murder was equally unhelpful. She had been tidying the stacks of scrolls when she came upon the man lying there. The lack of blood had made her think he was sleeping at first or had succumbed to too much drink. It was only when she had tried to rouse him that she found death was already stiffening his limbs.
The victim's pockets and belt pouch held little in the way of clues either. There was no indication as to his identity, but the motive had probably not been gold. His coin pouch was full – bulging, in fact. A golden time piece on his wrist was also untouched. Even his hat which would have fetched a fair penny in the markets was untaken, placed neatly to one side of the peaceful corpse.
Saengkt ver beh sighed, bristled his wings once more, and opened a moongate to his study. This case would take some thought, and several blocks of Trinsic chocolate to process.
What you need to know
This is a murder mystery. That means this event will require more thought, and less bashing. If you find puzzle-solving boring, then you will be bored. If, however, you like mental stimulation and mysteries, then I think you will be highly entertained.
Gates to the EM Hall will be available in the usual places, half an hour to an hour before the event.
I hope to have VvV turned off in Britain for the two hours surrounding this event. As of this writing, I do not know if that will be possible or not. If it is not, we will simply go and defend the outskirts of Britain from a sudden invasion of monsters until VvV is over. The guard zone will (probably) stay turned on.