There are a total of four Arenas for organised, formal player versus player content; whether it be single duals, guild teams or extensive tournaments.
Arena Styles
There are two styles of arenas, style one is found at Ocllo, Felucca and Haven, Trammel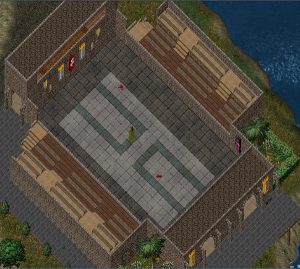 The second style is found in Lost Lands, both Felucca and Trammel, close to the Minoc/Khaldun entrance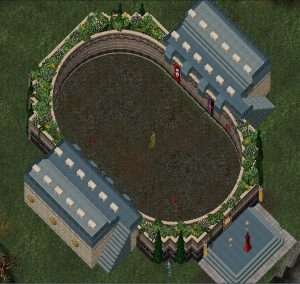 Pets
Each arena has an Arena Manager, use the context menu on this NPC to stable or claim a pet.
Starting a Dual
To open the arena menu double click the arena stone found at the entrance. From this you can check your arena stats, if you have any, and host or join a duel. You will need to set the 'Ignore duel invite' option to 'OFF'.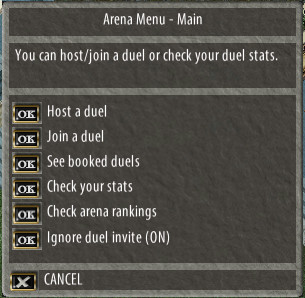 Clicking on 'Host a duel' will open a menu allowing you to set the rules for your encounter, click the arrow till you reach your selection, clicking past the maximum returns you to the first setting. Options are as follows:
Maximum Entries: 2 – 10 participants
Room Type: Public or Private
Battle Mode: Survival or Team
Ranked: yes or no
Time Limit: 5, 10, 15, 20 or 30 minutes
Entry Fee: 0, 1000, 5000, 10000, 25000 or 50000gp
Pet Slots: 0,1,2,3,4 or 5
Riding/Flying: OK or NO
Ranged Weapons: OK or NO
Summon Spells: OK or NO
Field Spells: OK or NO
Potion: All OK, NONE or No HEALING
Inviting Opponents
Once you have determined the rules you wish to apply, OK the list to reach the next gump. From here invite the character or characters you wish to dual. They will be presented with your invitation, showing the list of rules.
The list of participants is now shown and you may click 'Start the dual'. All participants receive a further gump confirming the participant list and rules. The red instruction at the bottom of this gump is also shown as a system message.
Step through the gate to enter the arena, participants arrive at opposite ends and may not engage for five seconds. A grid of fire signals the beginning of the dual.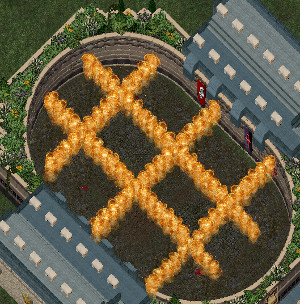 At the end of the allotted time period all participants are put into a peaced state and will be ejected from the arena 40 seconds later at which point a hit points, mana and stamina of the duelists will be completely restored.
Battles in the arena give a character entitlement to the following reward titles:
Fledgling Gladiator
Budding Gladiator
Gladiator
Well-Known Gladiator
Veteran Gladiator