The Huntmaster at the Skara Brae Ranger's Guild offers a monthly challenge for hunting various species throughout Britannia.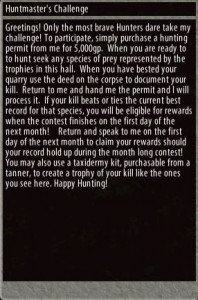 The Huntmaster can be found here
Obtain a hunting permit from him using his context menu, it will cost you 5,000gp, the funds must be available your bank box.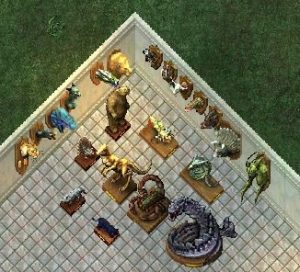 You will see examples of the creatures to hunt arrange around the guildhouse, here's a list:
Grizzly Bear
Gray Wolf (or Grey Wolf)
Cougar
Turkey
Bull
Boar
Walrus
Alligator
Eagle
Publish 91 in late 2015 added a further list:
Myrmidex Lavae
Najasaurus
Anchisaur
Allosaurus
Dimetrosaur
Saurosaurus
This listing has been extended again, publish 95 late 2106
The latest update, publish 98 late 2017 adds two more creatures to this list:
Further additions are included in publish 102, late 2018
Raptor
Sea Serpent
Scorpion
Additions in publish 109, 2020
Giant Toad
Platinum Drake (Crimson Drake is not a valid kill)
Additions in publish 111, 2021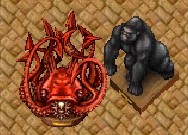 Additions in publish 114, 2022

High Plains Boura
Polar Bear
Double click on the hunting permit and target the corpse of a valid species to record the kill.
The Permit will display the Hunter's Name, Date of the Kill, Location of the Kill, Species of the Kill, and a measurement for the Kill, in most cases this measurement is the weight of the creature, but alligators are judged by their length and eagles by their wingspan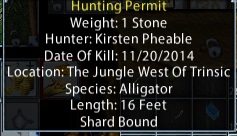 A skilled carpenter with a taxidermy kits can use your hunting permit to create a trophy for display; tiger trophies created from kills after publish 98 will match the color of the tiger killed. The permit is not consumed in this process.
Return to the Huntmaster to submit a kill for consideration in the monthly competition. Do this by dropping the permit on the huntmaster. If you are lucky you may see this message: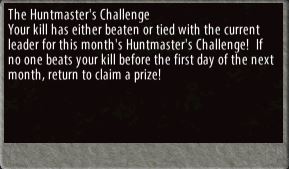 Sadly, instead, I saw this:

 See below.
If a submission has the greatest measurement for a species, the kill will be displayed on the trophy inside the Ranger's Guild.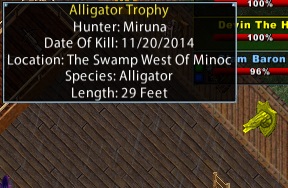 If a submission ties the greatest measurement for a species the display on the trophy will not update, however the submitting player will be eligible for reward when the contest concludes each month.
If a submitted kill has the greatest measurement at the end of the month, the submitting player(s) will get points for each submission to redeem rewards from the Huntmaster.
Kills can only be submitted from the current month and year.
The Huntmaster's month will be updated on server maintenance, each new month the contest will reset.
Rewards can be redeemed by double clicking on the Huntmaster, and include (updated publish 111, late 2021):
A Harvester's Blade

Used on corpses, returns all possible resources to the character's back pack
Grants a 10% bonus to all resources gathered
Does not need to be equipped

A Horn of Plenty

10 charges, list of possible rewards updated annually
Recharges each year at thanksgiving

Cooking Recipes

Hamburger – bread, raw ribs, head of lettuce
Hot Dog – bread, sausage
Sausage – ham, dried herbs
Grilled Serpent Steak
BBQ Dino Ribs
Waku Chicken

Miner's Satchel

50% Weight Reduction, holds ore, ingots, granite, and saltpeter

Lumberjack's Satchel

50% Weight Reduction, holds logs and boards

Fisherman's Bushel

50% Weight Reduction, holds fish

Trapper's Bushel

50% Weight Reduction, holds crabs and lobsters

Harvester's Axe

When equipped magically transforms logs into boards as they are harvested, placing boards in the character's backpack
Can be recharged with a runed switch

A Reward Title Deed: Huntmaster's Champion
A Sash – "Member of the Skara Brae Ranger's Guild"
Bake Kitsune Hat

Can be imbued with exceptional bonus
Base Resists: 1, 3, 8, 3, 9