It is possible to change the language used in the client, within limitations. This is a simple task in enhanced client, less so in the classic client.
Enhanced Client
Open the 'user settings' menu, select the 'options' tab. Language is listed at the top of the page, click on the arrow to open the drop down menu and select your choice from the list.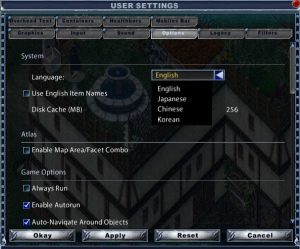 Classic Client
In the older client the language setting must be changed in the file uo.cfg. While editing game files is not allowed generally, this file is an exception to that rule and some changes can be made to it. For example some people prefer to edit the line 'Desolation=on' to read 'Desolation=off'; a setting that changes the appearance of the Felucca landscape.
Find the file in the Electronic Arts folder in your program files, the location should be similar to that shown in the address bar of the image below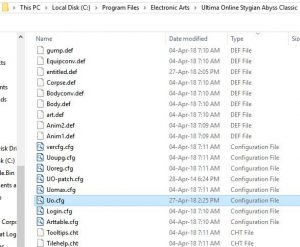 Right click on the file and choose 'open with' 'notepad'; add one of the following lines to the file:
For English

UserLanguageCodeString=ENU

For Japanese

UserLanguageCodeString=JPN

For Korean

UserLanguageCodeString=KOR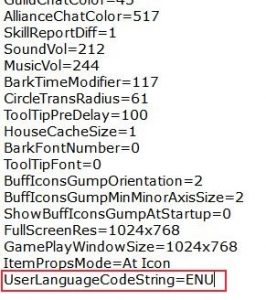 For clarity, the symbol between UserLanguageCodeString and the ENU, JPN or KOR tag is an equals sign. Save and close the file, you will be asked if you wish to replace the file of the same name; yes.