Throughout Ilshenar are small clearings where gather, from time to time, bands of travelling Gypsies in their caravans. The groups contain a variety of people and may include a Banker, an Iron Worker, a Vagabond (tinker) a Maiden (provisioner or a Fortune Teller (Mage).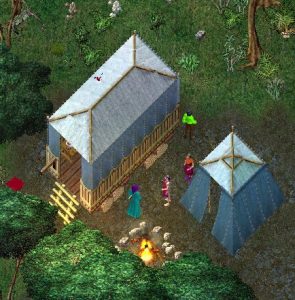 While it is perfectly possible to recall from the facet and enter by a nearer moongate to visit the locations, this page has been written as a 'whistle stop tour' travelling from each location to the next without leaving the facet.
Travel West from Honor moongate to 72.09'N 52.56'S to find the first of these camps, then south to 47.11'N 45.54'W.
Follow the road south to the junction and turn East towards Mistas. 39.39'N 34.31'W. Continue along the road towards Justice shrine, taking the West fork to the water's edge, 58.32'N 28.45'W to find the next location.
Cut across back to the main road and follow it through the mountain pass towards Healer Grove, the next location is just beyond the grove at 53.10'N 13.42W. Then move through, or around, Lakeshire, close to a group of pixies at 37.31'N 3.09'E.
Continue on the road around the lake to find the next location just beyond the Twin Oaks Tavern at 52.44'N 14.12'E. From there turn North through the forest to the bridge, cross the bridge and then turn East towards the beech, follow the coastline North to the next bridge then turn North, away from it to 97.17'N 7.44'E.
Further north you will find a permanent encampment, go through and find a narrow pass turning north east, stay close to the northern edge of the mountain till you find another narrow pass, this time turning north west. Keeping the mountain on your right side, follow it round towards the North and East till you find the next location at 119.21N 6.11'E. The final location is close to the pathway to Karnagh Pass at 107.55'N 4.51'W. You will need to wind your way through the mountains north and west to reach it.
Finally turn south, following the mountain till you are able to turn west and north again to reach Compassion Moongate and leave Ilshenar.