A costume credit allows you to groom a bonded pet into an alternate style.
Costumes are pet-specific and must be applied to the corresponding pet breed.
This credit is usable ONLY by the purchasing character and is purchased from Ultima Store at a cost of 800 sovereigns.
This credit is stored on the purchasing character and can be applied to your pet at the Pet Groomer
Pet Groomers are located at various stables throughout the world
Once the credit is applied, the groomer can style your pet with any costumes you have purchased as well as the original body type and hue.
For a newly purchased costume choose 'Apply Store Costume', to switch between owned costumes and the pet's original appearance choose 'Groom Pet'.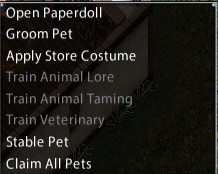 Costumed pets may not be transferred until they are returned to their original appearance.
Any existing costume credits will be returned to the pet owner when the pet is transferred.
The first pet costume, introduced September 2021, allows a Cu Sidhe to wear a Newfoundland Costume, the second, added October 2021 is a Malamute. The third costume, added December 2021 is a Saint Bernard. January 2022 saw the addition of the fourth costume, Great Dane. March 2022 brings the fifth costume in this set, the Russian Terrier. The final costume in this set, available from 1st April 2022, is the Rottweiler.