EJ Accounts
Now that you have rented your Vault, how do you use it?
Use the vault manager's context menu to open both your vault and your bank box. Selecting 'open vault' will teleport you to the vault's location, then open your bank box.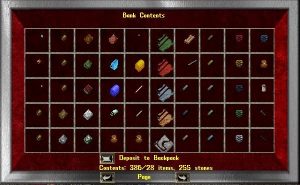 With both vault and bank box opened a single click on an item in your bank box will move the item to your vault or to your back pack, click on the button at the bottom of the gump to toggle between locations (pictured above). If the item chosen is a stack you will receive the message 'enter the amount to withdraw'
Note: The extremely high item count shown in these images is because they were taken on Test Center where various 'give' commands allow overloading.
Vault Auctioning
What happens to your items if you do not pay the rent and do not claim the vault contents?
All unclaimed defaulted vaults will be auctioned off in the Britain Commons. Each auction lasts 8 hours. Auctions will begin after maintenance when safes are available. Upon winning, auction players will have 3 days to collect their prize. You may view the contents of the vaults using the context menu.
If the winner attempts to claim their prize but cannot currently hold the vault due to item count or weight then the following will occur. First, a temporary storage is created which will be deleted after 3 hours of in-game time and the item is placed in this storage. Items in this temporary storage will attempt to place themselves individually into the winner's backpack over this time period. Also any commodity item will auto convert into a commodity deed. So the winner will have 3 hours of in-game time to make room in their backpack in order to receive their auction prize.