The only quest giver in the Stygian Abyss, Sutek's workshop is found just South West of the Clan Scratch area of The Cavern of The Discarded.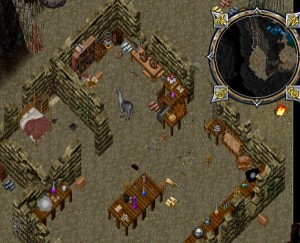 A wise questor will study this area well, noting as many locations of highlightable items as possible.
| | |
| --- | --- |
| Sutek himself is somewhat more elusive and can often be found some considerable distance from his home, as can be seen from the image. He wanders the cavern and surrounding areas muttering strangely to himself. | |
On taking the quest you will receive a clockwork assembly with a timer.
Do nothing with this at this point Return to Sutek's workshop.

It is highly recommended that this quest be done mounted or in a form that allows movement at mount speed.

Double clicking the mechanism brings up the following menu.
A number of items will be requested, you must find each one, stand close to it and double click it before the timer runs out. Clicking an item when more than a tile or two away from it will get a 'too far away' message.
Warning, the allowed time from clicking 'ok' to finding the first item is estimated to be less than 10 seconds.
If, as many questors before you, you receive this disappointing message, resign the quest, return to Sutek and begin again.

There seems to be slightly more time between items after the first has been found, though this wasn't recorded and may be subjective. The list is extensive and can be anything from 10 – 20 items. Some may be repeated.
This questor was asked for:
Bones
Shafts
Silver ingots
Thorns
Rope
Leather
Spirit Essence
Fetid Essence
Void Essence
Barrel Staves
Scales
Dark Stone
Copper ingots
Beeswax
Copper Wire
On completion of the list a clockwork creature will appear. However only briefly, and this disappointing message results.

Do not despair. The completed clockwork assembly remains in your back pack.Mark the assembly as a 'quest item' through your character's context menu and return to Sutek.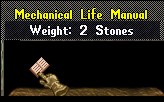 The reward for this quest, the Mechanical Life Manual, must be read by a character with Tinkering Skill. The character can then, with the correct resources, craft one of three mechanical pets, a Clockwork Scorpion, a Leather Wolf or a Vollem.
From May, 2010 (Publish 66) an additional reward is given, "Sutek's Dirty Gear". When clicked this becomes a 'Dawn's Music Box' gear.