Two wedding packages are available from the Ultima Store.
Areas shown in purple in the image below can be dyed to suit your theme.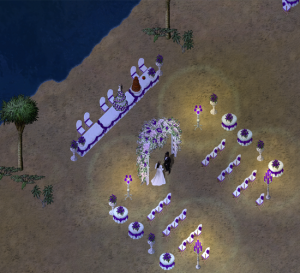 Base Wedding Package (cost 2,900 sovereigns)
Magical Botanical Archway Seed

Can be redeemed for 1 of 3 different botanical archway house addons

Magical Wedding Sewing Kit

Groom set includes tuxedo pants, tuxedo shirt/jacket combo, top hat, and engraveable cake topper
Bride set includes wedding gown and engraveable cake topper

Magical Cake Batter

Can be redeemed for 1 of 8 different three-tiered wedding cakes
Cakes can be decorated using a cake decoration tool
Produce a slice of cake matching the engraving and hue of the cake when used

Chocolate Fountain

Animated chocolate fountain that produces a chocolate covered strawberry when used

Furniture & Decorations – All specially wedding themed

6 cocktail tables
6 covered chairs
20 folding chairs
10 tabletop bouquets
4 standing bouquets
2 fancy candelabras
2 regular candelabras
2 short buffet table deeds
1 long buffet table deed
Addon Wedding Package (cost 900 sovereigns)
 Available to support seating for extra guests!
Furniture & Decorations – All specially wedding themed

4 cocktail tables
4 covered chairs
10 folding chairs
6 tabletop bouquets
2 standing bouqets
1 fancy candelabra
1 regular candelabra
1 short buffet table deed
1 long buffet table deed